Travel Info & FAQ
Good to Know
Here you'll find some useful information about checking in for your flight, in-flight amenities, customs, and more. And be sure to take a look at the answers of some of our frequently asked questions below.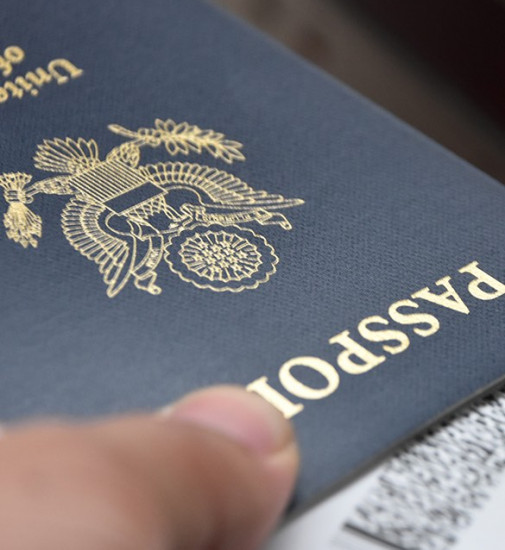 Travel Information
Here are some things to expect before, during, and after your flight with us. Please note our policies regarding baggage, pets, and traveling minors as well as charter flight restrictions.
Baggage & Weight Limits*
Tropic Ocean will take your bags from your car, to the aircraft, and through customs with care. Just one less thing to worry about.
Soft-sided baggage is preferred on our flights. No hazmat or dangerous goods can be shipped in baggage or cargo, and the total weight for the flight includes passengers and baggage.
Scheduled service:
Bimini - 30lbs per person
Marsh Harbour and Great Harbour Cay – 50lbs per person
Private Charter:
206 Seaplane (Up to 4 guests): 700 to 750 total lbs (varies with location)
208 Seaplane (Up to 8 guests): 1,500 to 1,800 total lbs (varies with location)
Wheeled Caravan (Up to 9 guests): 1,700 to 2,500 total lbs (varies with location)
If your baggage exceeds these dimensions 14″H x 41″L x 27″D, please contact us to accommodate your requirements.
Each plane has weight restrictions for the safety of our guests and therefore we reserve the right to refuse baggage exceeding the weight limit.
Tropic Ocean Airways is happy to store any extra luggage for the duration of your trip. The maximum allowed baggage storage is limited to two bags per person, with any additional bags for a fee of $30 per bag. This policy is only applicable to Fort Lauderdale International departures and arrivals. No baggage storage is available for Miami Seaplane Base or other departure locations.
*Additional weight may be permitted if traveling via private charter.
If you require additional baggage for your trip, please consult our cargo department Monday–Friday 10 am–4 pm EST at 1-800-767-0897 X293 or email: cargo@flytropic.com.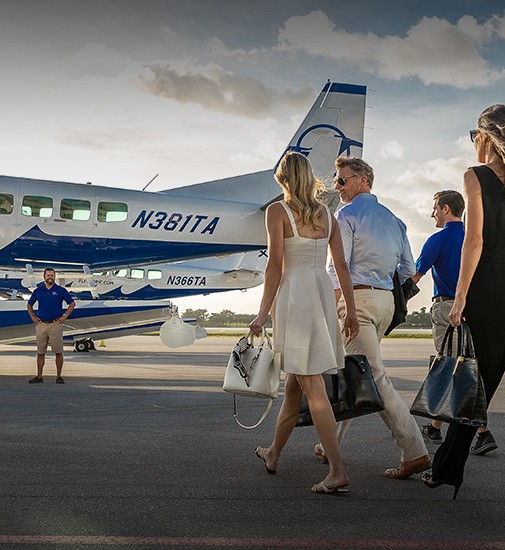 Frequently Asked Questions
Here are some answers to some commonly asked questions. Want to know more? Please reach out. We'll be happy to explain anything you'd like to know.
What is Private Charter?
A Private charter is a non-scheduled flight or on-demand flight. They can not be booked online, to inquire about the cost of a private charter fill out this form. We will contact you with a quote.
Where do I depart from if I'm traveling from South Florida?
Fort Lauderdale Sheltair is located at 1100 Lee Wagener Blvd., Fort Lauderdale, FL 33315 in General Aviation (note: we are not in the main terminal at Fort Lauderdale International). Miami Seaplane Base is located at 1000 MacArthur Causeway, Miami, FL 33132 on Watson Island.
How close to departure can I book a flight?
You can book a flight the same day you want to fly, pending availability. However, please note all charter requests are subject to aircraft availability, so it is advised that you book out as far in advance as possible.
By the seat experience: Due to paperwork which must be filed with Customs and Border Patrol, flights close two hours prior to departure time.
What is your cancellation policy?
Scheduled service tickets are nonrefundable and non-transferable.
If you have a private charter, outside of a 30 day window, you are entitled to a full refund. If it is within 30-15 days, you can retain the full amount paid as credit on file for any future charter flight. If it is inside a window of 14 days, the flight is non-refundable, but can be moved to another time and date pending availability.
Contact us for more information.
Can I change my flight or flight time?
For any changes made to a scheduled service booking it will inquire and $200 fee and is based on availability. The change can be made by calling our customer service line at 1-800-767-0897 option 4.
Private charters can be changed pending availability. Please note that the closer it is to the day of flight, the less likely it is that we are able to accommodate a change. If you have a charter flight and wish to change your time of travel, please speak with your charter specialist.
Do you provide transportation from the airport?
Yes. We have a complimentary shuttle that must be set up in advance, as it is upon request. This service is only provided at our Fort Lauderdale Sheltair location. You must call or email Customer Service to book our shuttle. Our phone number is 1-800-767-0897 opt. 1. You may also email us at customerservice@flytropic.com. Our hours of operation are 9:00 A.M. to 5:00 P.M. We will need your commercial airline name, flight number and arrival time to set up your pick up.
How far in advance should I arrive for my flight?
Guests should arrive 45 minutes prior to their flight. Check in begins at 30 minutes before the schedule departure time and boarding time is 15-minutes before the scheduled departure time. Anyone not checked in prior to the boarding time will be denied boarding.
Do you have parking?
Yes. We provide complimentary valet parking at Fort Lauderdale Sheltair. Miami Seaplane Base has a free parking lot. However, the gate is closed daily at 5:00 P.M.
Can I bring alcohol onboard?
Alcoholic beverages may be carried when they contain 24% to 70% alcohol by volume (48 to 140 proof). Each container cannot exceed 5 liters. And, each passenger cannot bring more than 5 liters onboard. Items under 24% or 48 proof (most beer and wine) are unlimited.
Can I take a cooler with food on my trip?
Most islands are ok with 1 days worth of food as long as it is not raw meat or fresh produce. To bring in larger amounts, raw meat, or fresh produce you will need an agricultural permit. One can be obtained here.
What travel documents do I need to enter The Bahamas?
U.S. Citizens require a valid U.S. passport book to enter The Bahamas. Non-U.S. Citizens may require a visa, in addition to their passport book. Be advised that international flights cannot be boarded with a Passport Card.
Do I need my passport to book my flight?
All guests must have valid passport at the time of booking.
In order to travel back to the United States, you must have a valid passport, visa and ESTA if applicable. Failure to comply, may result in fines or denied boarding/entry.
What is the procedure upon arrival to the U.S., if I have a foreign passport?
Upon arrival at the Miami Seaplane Base to the U.S., you may be taken to the Port of Miami for fingerprinting due to your foreign passport. The entire process takes about 30 minutes. We recommend you plan your connecting flights taking this into account. Upon arrival in Fort Lauderdale, the guests will be cleared in customs and fingerprinted as well.
Do I have to pay for my infant?
Infants under 24 months at the time of flight are only required to pay taxes and fees. Over 24 months would not be considered a lap child and would pay full fare. We do require infants to have a passport.
Can my child sit on my lap during the flight?
The child must be under 24 months old (2 years old) at the time of flight.
If the child over 24 months requires their own seat.
If guest is travelling with a lap child, the following restrictions apply:

Lap Child must be held on lap for the duration of the flight.
One (1) lap child is permitted for each ticketed adult.
All persons on board require a life vest in the event of an emergency. Crew must ensure additional vests are provided for flight.
Is flying on a Tropic Ocean Airways seaplane safe?
Absolutely! Our company was founded and operates under the leadership of a Naval TOPGUN fighter pilot, who flew 41 missions and earned two air medals in Operation Iraqi Freedom. All Cessna Caravan flights operate with two pilots, most of whom have a military or seaplane instructor background.
What should I do if I'm connecting from a commercial flight?
When flying in from other cities we recommend arriving in Fort Lauderdale or Miami two hours prior to your flight. Let us know ahead of time and we can arrange transportation from Fort Lauderdale International to our private terminal. (Any delay on the commercial flight is the sole responsibly of the guest).