21 Jan

Seaplane Travel in Style

Luxury travel, sandy beaches, warm waters, and remote islands in paradise have us all yearning to book our next flight. As the time approaches, you being to dream of the island lifestyle, relaxing on white sand beaches, lounging by the water surrounded by palm trees, and living on island time. And yet, there is still the stress of packing for your getaway.

No matter whether you plan to stay on a remote island for your getaway, or a luxury resort, here are some packing ideas to travel in style while you fly away to paradise on a seaplane:
Maxi Dress: A breezy and lightweight dress made perfectly for balmy, tropical days. This dress allows you to travel in style. Throw a swim suit underneath with ease for transitioning from travel to lounging beachside. 2. Sun Hat: The art of the sun hat is must-learn skill. This stylish accessory protects you from the hot sun found in paradise while at the same time giving you wanderlust vibes. Master the sun hat and you have mastered the traveller style!3. Hybrid Board Shorts: These shorts are a MUST have and will have you looking great in any situation. Whether you are traveling, relaxing, working, or taking a dip in the ocean, these shorts have you covered. With quick-dry material, these shorts allow you to go from the beach to a restaurant without changing. They come in versatile colors for multiple situations such as khaki, brown, grey, and black.4. Sunglasses: Those tropical sun rays can get you when you step off the seaplane into paradise. Find yourself a pair that are polarized and you will see those tropical blues like never before. The feeling of seeing through the water will become real and who knows, you may even see some fish in their natural habitat. 5. Water Shoes: Everyone knows that the tropics involve water. And between flying on a seaplane, exploring the island, and days at the beach, a versatile pair of shoes is the way to go. Water shoes have made stylistic improvements through the years and now offer stylish options between boat shoes, sneaker looking shoes, sandals, and more. Check out different water shoe options to find your best fit for your getaway!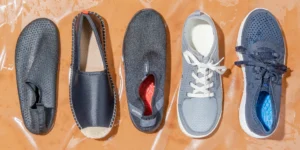 Traveling prepared and traveling in style is the best way to start your tropical getaway!