22 Nov

Accolades from a Nervous Flyer

I am a nervous flyer, so every time I fly, I am super concerned with the weather, winds, clouds, etc. Whenever I can, I prefer to fly on smaller planes and charters, but my true passion is flying on seaplanes.

My recent experience went like this….My Tropic Ocean Airways' flight from Nassau to Fort Lauderdale is scheduled for 3:30 PM, I keep checking the weather and my anxiety grows…

After a short and comfortable wait on the couches of Odyssey Aviation FBO the captains inform us that is time to go.

It's just two passengers on board; we have the plane all to ourselves…how special! We climb up into the Cessna Caravan, buckle up and take off.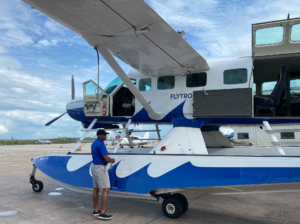 Take off was smooth and the views below continue to amaze me. We could see extremely well and I was able to photograph the majestic scenery below through the crystal clean windows.
About 20 minutes into the flight, the captain informed us that due to bad weather, we were rerouted South to the Florida Keys. From my seat I could see the radar monitor and my anxiety skyrocketed.
The pilots flew around all the darkest clouds and avoided any possible turbulence, so despite the weather we were still flying quite smoothly.
I felt safe and in the hands of these two young captains and I started to enjoy the spectacle. The flight to Fort Lauderdale took a little more than two hours, but it was the most special flight. We flew low over the keys and avoided the cold front that was moving East. On the way up to Fort Lauderdale, we flew over Miami Beach at a low altitude – what a fantastic experience and vantage point!
The flight turned out to be an amazing experience in complete safety, thanks to the professionalism and attitude of the pilots. One to remember for sure!
– Alessandro Sarno