21 Sep

Top 5 Things to do in Bimini

Bimini, The Bahamas is an island located 50 miles from the shore of South Florida. While the distance is short, you will be sure to feel like you are a world away from the hustle and bustle of city life. A true tropical oasis, Bimini offers a tropical getaway that is located only a shells throw from your front door.

Below is a guideline to help ensure smooth travels and a carefree trip while you enjoy the island lifestyle. When you fly with Tropic Ocean Airways, you can sit back and relax- the seaplane flight is only 25 minutes from Ft. Lauderdale. No need to get to the airport two hours before or wait in long lines- Tropic Ocean Airways offers a concierge like service- check in one hour prior to departure and enjoy the views as you pass over the crystal-clear water to the Bahamas. When you arrive in Bimini, checking in is a breeze and before you know it, you are well on your way to the beach! I recommend wearing a bathing suit and cover up on the way over so that you can head to the beach ASAP! Contact Marvin and M&M golf carts to have your ride ready as soon as you arrive. There are a few different options that I recommend for accommodations when you stay:

– Resort World Bimini – open since 2013, Resort World Bimini offers 750 acres of beachfront with multiple pools, private beach, casino, restaurants, and marina.

– Bimini Big Game Club- located in Alice Town on North Bimini, the 3.5-acre property is a boutique style resort with 51 guest rooms and cottages and 75 boat slips. BBGC is a staple of history in Bimini, with the club being originally founded in 1936 to organize fishing tournaments, attracting sportsmen from around the world. There is a pool and restaurant on site and is located a short 3 minute walk from the beach.

– Air BNB at Bimini Bay – all the comforts of home, a full kitchen, and located directly across from the beach. You can reserve via VRBO or Airbnb – Gabriel offers a nice 2/2 condo and is a fantastic host! (786) 402-1889.

Places to Explore:

1). Dolphin House – Established in 1993, the Dolphin House Museum is a three-story dolphin and ocean-inspired museum built using recycled materials by local Biminite author and historian Ashley Saunders. The Dolphin House Museum is Bimini's most unique and artistic structure with ingenuity and craftsmanship showcased around every square inch of the property.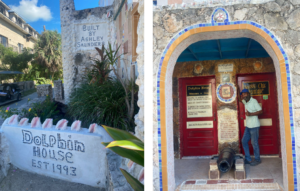 2) The Healing Hole – The healing hole is a freshwater spring that resembles a large well that is only accessible by boat and is surrounded by mangroves on the deserted east side of Bimini. It is believed that the well-like hole offers powers of healing. Similar to the Dead Sea and other bodies of water around the world, it provides a very high concentration of salt. Originally it was known as a secretive healing location by locals; it is now a popular destination for those adventurous enough to visit Bimini's most remote island. On the way there, you can stop and view a small statue of Martin Luther King Jr. Martin Luther King Jr. visited the island twice, once shortly before his assassination, to write two of his speeches and asked local Biminite Ansel Saunders to 'take him somewhere tranquil' which ended up being in the flats on the east side of the island. History has it that he called the spot ' the closest place to heaven on earth'.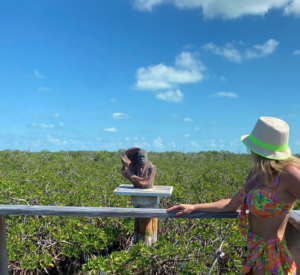 3) Pat & Ebbies + Ebbie's Guided Bonefishing – Ebbie is a certified professional Bonefish Guide, a native of Bimini with over 20 years of experience. His experience and skill in fishing for Bonefish has earned him the reputation as one of the best guides in the Bahamas. You can hire Ebbie for a half day or full day of Bonefishing. Make sure to check out his bar/restaurant Pat and Ebbie's in Alice Town; an incredible place to watch the sunset and enjoy a cold Kalik (beer of the Bahamas!) and a conch salad.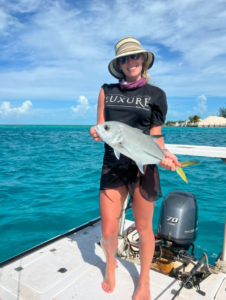 4) Shadow's Beach Bar + Radio Beach – Radio Beach is located on the back West Side of the Island; it has always been one of my favorites beaches in the world! Take a golf cart ride down the back side of the island and you will find Mike's Conch Shack and Shadow's Beach Bar. After passing Mike's Conch Shack, on the right-hand side before you get to the end of the road (before the orange building) you will find a small sign for Shadow's Beach Bar that will lead you down the stairs to Shadow's tiki bar. I recommend the fresh coconut drink that can be spiked with rum to your pleasure. You can rent beach chairs and floats from Shadow and soak up all that Radio Beach has to offer.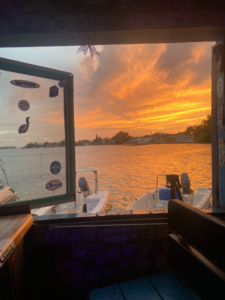 5) Sapeno Wreck – Sapona was built as a fleet of concrete ships authorized by Woodrow Wilson during World War I. Like many others in the fleet, the ship was completed after the end of the war, and Sapona was sold to a developer in Miami Beach. It was initially used as a casino and later for oil storage. It was later sold and moved to Bimini, where it was accidentally sunk on its tow to the island. It was then used as a warehouse for alcohol during the era of Prohibition. The next owner had dreams of making the sunken ship a floating nightclub, although this plan never came to fruition. After 1926 it was used as a bombing target for training by U.S. fighter planes during World War II. However, after a group of five torpedo bombers mysteriously disappeared while returning from a run to the Sapona on December 5, 1945, all target practice on the Sapona stopped immediately. The wreck sits in 15 feet of water, just a few miles off Bennett's Harbour in South Bimini, and most of the concrete on the hull has now been worn away by the bombing and weathering. The wreck lies in about 15 feet (4.6 m) of water. The wreck itself and the surrounding area is a popular site for scuba divers and snorkelers. If you are feeling brave, you can climb up and jump off the deck (although for liability purposes I cannot advise to do so ☺) .The ship was used as a backdrop in the 1977 horror film Shock Waves. It was also figured as a key setting in Ian Fleming's novel Thunderball.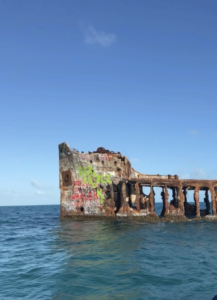 After all that adventuring you are going to need a massage on the beach! Reach out to Adriana at Guardian Angel Holistic Massage Therapy. Whatsapp is best at 1 (242) 809-6205. [email protected].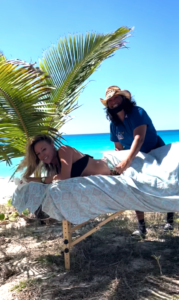 Written by: Megan Romine
Email: [email protected] Instagram: @mermaidrealtor